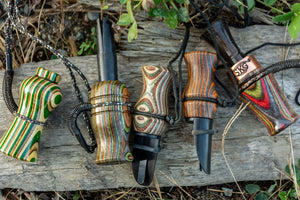 Thank you so much. I'm your biggest fan. My wife and I run an orphanage in India and I have trained all the boys in woodworking. SpectraPly is our favorite wood. We have made pens, bowls, cups, rings, ornaments, and trees out of your SpectraPly. Thank you for the business you do. We couldn't support our orphans without Cousineau Wood Products!!

Andrew L.
Hey guys just wanted to let you know your products are AWSOME!!!! They add such uniqueness to my projects. I was so thrilled when I found this wood. The Spectraply is awesome the various colors and options are insane. You guys at CWP are doing a great job and I couldn't be more happy with my experience. And I just called in with a few questions and the customer service was wonderful he answered all my question and had a nice conversation too.. Very pleasant experience.

Mike D.
Made some bottle stoppers from Cousineau's DymaLux all my years as a wood worker this was an awesome experience. This company can give you life changing experience and new ideas in woodworking. Highly recommend you try this product on your next project. There is no end to new ideas. Try it one time. They have real team work.

Stephen M.
WOW!!!!

You guys are amazing! Not only were the products sent reasonable and exactly as promised, but I have never seen such an efficient and quality shipping department. I no sooner had the order in than it was sent to me and I had the wood in a day or two. Thank you for giving me a weekend of turning (truly good for the soul) and a reminder that there are still some places that honor quality and service to their customers.

John P.
I've recently discovered Cousieneau Wood Products and they have a lot of great products. I look forward to having a great relationship with them in the future.
Great job and crazy colors. 😃

Sterling D.